Tynemouth Together with Refugees is a campaign group calling for a fairer, more compassionate approach to refugees. Throughout 2023 they have been reaching out to businesses across North Tyneside to ask them to join the High Street Challenge and support the Lift the Ban campaign. As the local campaign grows, Penny Henry, a founding member and spokesperson for the group, shares some reflections and tips from  their work on the High Street Challenge so far. 
Getting started
Early in 2023, members of our group met to decide on a focus for our campaign. We were made aware of the Lift the Ban High Street Challenge through Asylum Matters, and felt that this was a way we could further develop awareness locally on issues around refugees. TTWR had already made contact with some local businesses who have agreed to publicise our events, for example by displaying posters. So this was a way of saying to businesses: 'This is something you can do to help'.
We learnt that an upcoming local ITV news item on the Lift the Ban campaign was going to feature Elder and Wolf, a local restaurant which is speaking out for the right to work. Recognising this opportunity, we created and gave out flyers to local businesses that had already supported our events, signposting them to the broadcast and the campaign.
We then held a meeting with Jen Laws from Asylum Matters and Katie Bryson from IMIX to discuss our next steps. We decided to make sure our plans for outreach were targeted and manageable, initially approaching businesses we already frequented or were familiar with. We adapted a letter using Lift the Ban resources with our logo, highlighting local support for the campaign. 
Our advice to anyone embarking on the High Street Challenge would be to start with businesses you already have a relationship with and think might be supportive – this really helped us begin to bring the first few businesses on board!
Building business support
We then allocated different businesses to members of the group, and devised a crib sheet to guide our conversations with business owners. Throughout March and April, we began our visits and spoke to business owners about the campaign. All were unaware of the restrictions on asylum seekers' ability to work, and were quickly onboard and keen to give their support. We gave businesses copies of the Common Sense report so they could read the full argument for lifting the ban, and if owners weren't available during the first visit, we left our letter and returned at a later date.
Some businesses were happy to have their photos taken with the Lift the Ban poster, and many agreed to having their photo on our new Facebook page. To date, 23 businesses have signed up, including cafes, restaurants, florists, a physiotherapy centre, an independent cinema, a dental practice, and many more!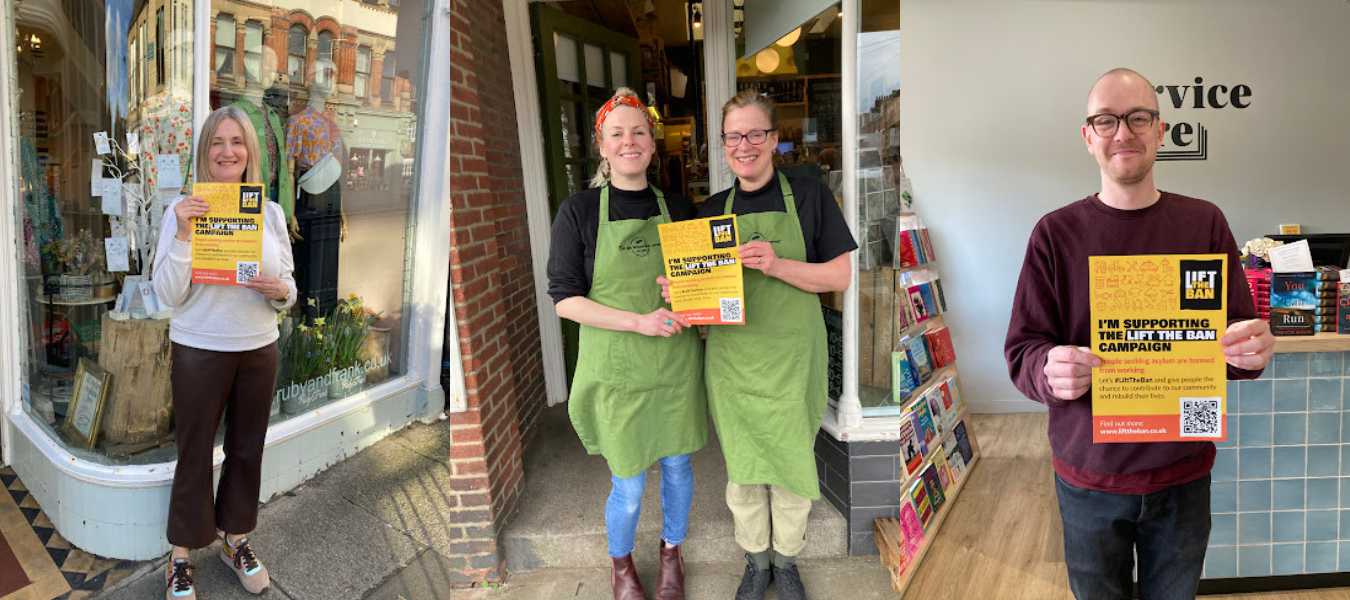 What next?
We are now planning on writing a letter of thanks to each business who have signed up so far, and will also send one of the new Lift the Ban window stickers to put in their window.
We are also hoping to arrange an event where businesses can meet with each other and hear from people with lived experience about their skills and aspirations. This event will be an opportunity for press and media engagement, and we will invite local leaders, including our MP.
We have felt truly heartened by the positive responses from local businesses. In such a challenging time for the refugee sector, we have managed to convince business owners that allowing asylum seekers to work and contribute to the economy is just plain common sense. This has been yet another opportunity for our local community to show their support and solidarity with refugees.
You can find all the High Street Challenge resources and information about how to get involved here.