Yesterday saw the fifth annual Sanctuary in Parliament event taking place in Portcullis House, Westminster.
City of Sanctuary groups travelled from around the UK to meet with their MPs and ask them to support three strategic aims which are of particular importance in the light of the expected upcoming Immigration Bill:
The right to work for people who have asylum claims outstanding for more than six months
Extension of refugee family reunion;
An end to indefinite immigration detention and the introduction of a 28-day time limit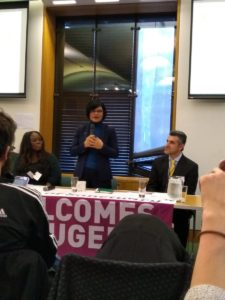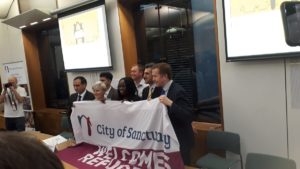 Thangam Debbonaire MP, Chair of the APPG on Refugees, opened the day and makes a persuasive economic case for lifting the ban on work for people seeking asylum in the Times Red Box here. Kate Green MP, Stuart C McDonald MP and Tim Farron MP sat on the morning panel alongside experts by experience Safian, Mohammad and Mishka, who gave compelling testimonies on their own experience of being prevented from working, separated from family and detained without time limit.
Throughout the day, MPs arrived to meet their constituents and Sanctuary Ambassadors with lived experience of the process, who briefed them on the importance of implementing a fair and compassionate system: one in which no-one is detained without knowing when they will be released; refugees are able to enjoy a family life with their loved ones and sanctuary seekers can contribute to society and provide for themselves and their families through employment.
For further information, policy briefings and materials, please visit City of Sanctuary's website. The three policy aims at the event are currently the focus of action on all fronts, including by coalition campaigns Lift the Ban, Families Together and Detention Forum. Supporters are encouraged to use the materials and information provided to keep up momentum in contacting MPs, and do let us know what MPs say in response to your approaches: [email protected]
#LifttheBan         #FamiliesTogether        #Time4aTimeLimit